Springhill-Westrock families fear Legacy Bill could shut inquests down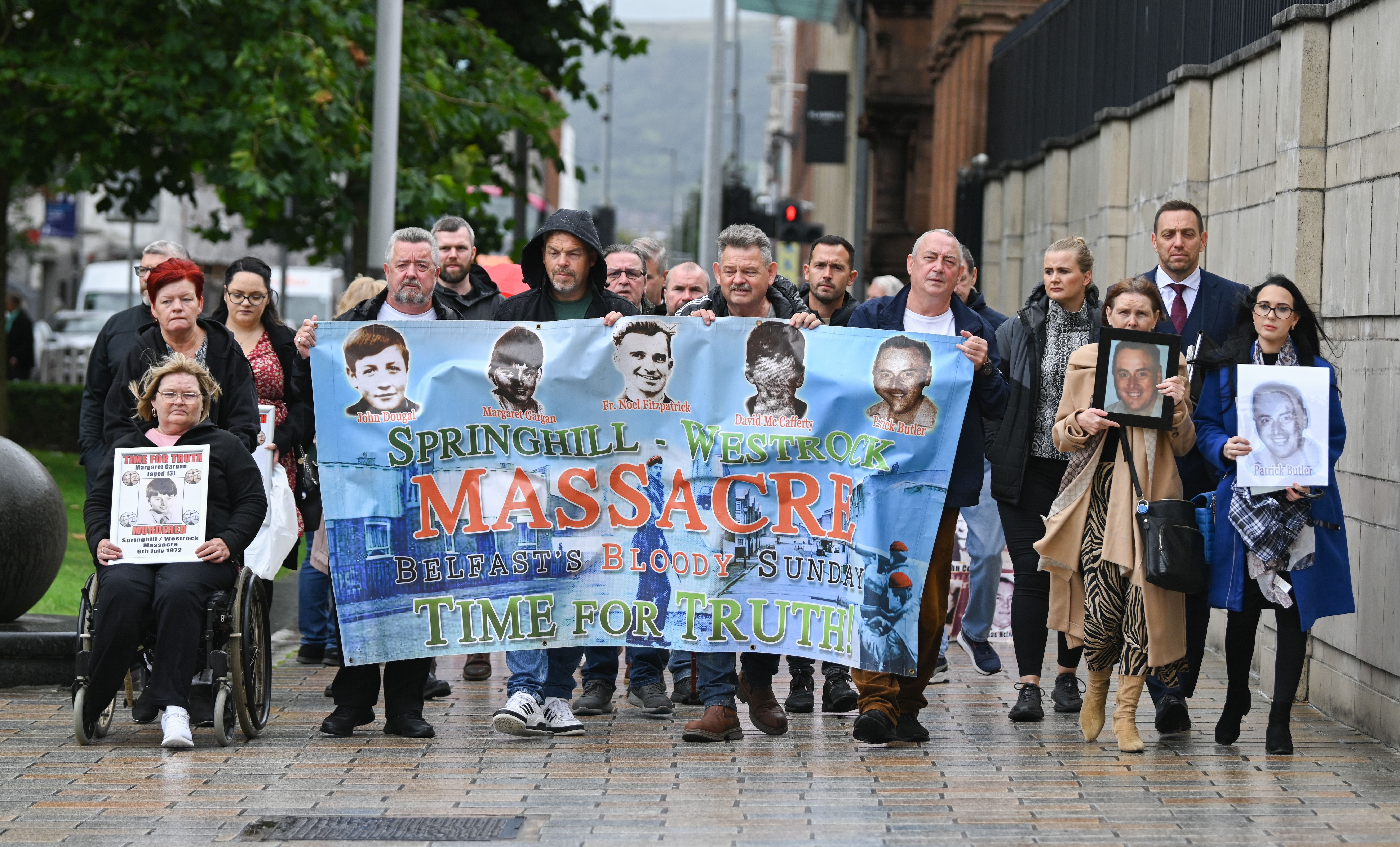 On 9 July 1972 the British Army shot dead five civilians including three teenagers and a Catholic priest in the Upper Springfield area. All victims were innocent and unarmed at the time of their deaths.
Next week on 25 January the families of the Springhill-Westrock massacre will be hosting a talk in Derry as part of the 51st anniversary of the Bloody Sunday massacre in which the British Army murdered 14 innocent civilians during a civil rights march in the city.
Natasha Butler whose grandfather Patrick Butler was killed in the Springhill-Westrock massacre said the families will be speaking on the current status of their inquest while in Derry and will also raise the concerns they have regarding their own inquest which will be coinciding with the passage of the British government's Legacy Bill. The bill effectively proposes an amnesty for all crimes during the conflict and there are fears the British government will use it to shut down inquests.
Natasha said: "We're in Derry on 25 January for Bloody Sunday 51 and we're also in court on Friday 27 January for a preliminary hearing in Laganside court. That's listed for a full hearing for three weeks and will start with the civilian witnesses. It is running on a modular form so will be running in blocks."
Next week the Time For Truth campaign which involves many families affected by state violence will be holding a protest outside the Northern Ireland Office on Tuesday at 1pm.
Natasha said: "There will be some family members there because we have to oppose this bill at every single stage. It's not just our family but it's all families who are being denied truth and accountability which no government should be getting involved in politically and closing down the avenue of truth. It's removing your basic human rights and if this bill comes into effect it will set people back generations. The legacy mechanisms at the present are working. The inquests are working, the only people the inquests aren't working for at the minute is the British government. Their bill is about protecting veterans, not victims. It's not victim-centred.
"The Ballymurphy case frightened the British government. These inquests are giving people the truth and giving people reconciliation and healing which they've been denied for over 50 years. We're in our 51st year, we've been denied truth and we've had to face barriers and obstacles which they've put in our way.
"There are over 20 inquests still outstanding so it will retraumatize those families who have been campaigning for the truth about what happened to their family members, some of whom have been campaigning for over 50 years. This new format they want to work with was already attempted with the Historial Enquiries Team and that failed for families. Many of those reports had to be quashed because they carried on British Army lies. We want our family and the other families to be able to get to the truth of what happened to our loved ones."
Dee Donnelly, the chairperson of the Springhill-Westrock Massacre Committee said there are serious concerns not only regarding their own inquest, but also into the inquests of other families who have yet to begin the process.
"Our main concern as a campaign group is that if the Legacy Bill is passed next week they might pull down the shutters on our right to an inquest and also prevent other families from having their own inquests. That is our main concern. We may be over the line so to speak in having our inquest scheduled but our worry would be for the other families who have still not got that right."
Dee stated that the bill is currently not supported by any political party in Ireland and was also condemned by the British Labour Party. Recently the UK government's own parliamentary committee said the bill breached the European Convention on Human Rights.
"This legacy bill is not supported by families. There isn't a single political party in Ireland that supports it. The very fact that the other day Labour Party leader Keir Starmer said if the bill is brought through, Labour would repeal it. This bill just represents the British government once again trying to bully the families of victims. We're concerned that if this Bill of Shame goes through, the British government will use it to close down our inquest and also deny the right to an inquest to the many other families out there who are still waiting for truth and justice for their loved ones."
He urged people to come to the protest next week to oppose the passage of the legislation.
"We will be voicing our opposition to this bill once more and voicing our concern regarding our own inquest and all of the other families who are still waiting for theirs."
McCann, Joe. "Springhill-Westrock families fear Legacy Bill could shut inquests down". BelfastMedia.com. January 20, 2023 10:24. https://belfastmedia.com/families-of-the-springhill-westrock-massacre-deeply-concerned-over-british-legacy-bill-as-their-inquest-is-due-to-begin